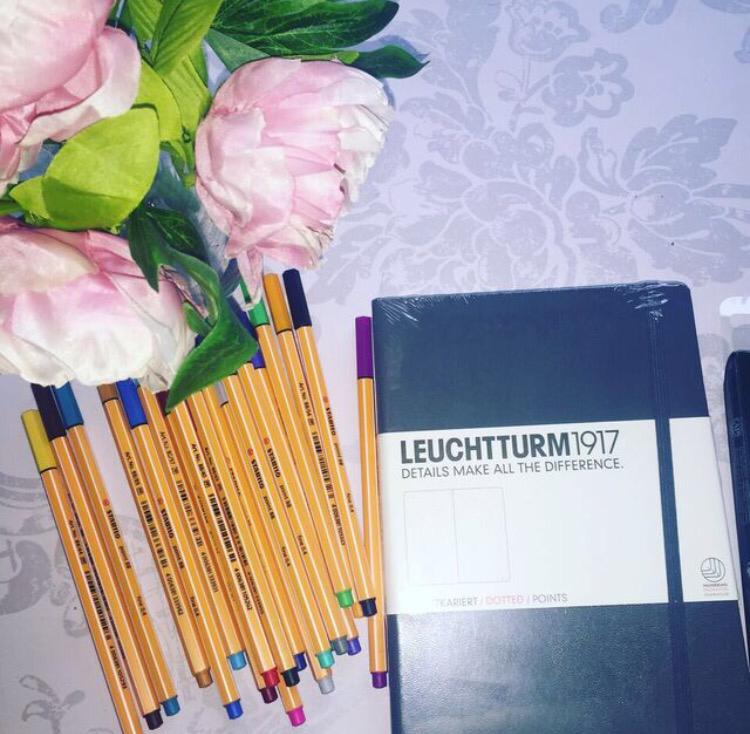 It soon became apparent how I needed everything to be extremely neat, clear and colourful. I liked the system but couldn't find the love for what I was putting down on the pages. I decided to delve into the Internet, Instagram , Pinterest and Goggle to find out more and gain some creative inspiration. I was not disappointed! Thousands of posts and pages appeared and the rest of my day was lost to a beautiful visual buffet of organisation and stationary.
After care consideration of diffrent reviews I decided on the LEUCHTTURM1917 Notebook Medium (A5), 249 numbered pages, dotted in colour anthracite (a dark grey) Like the one above. It was perfect, they come in a vast array of other colours, they have a dedicated index at the front, the pages are numbered and the paper a great quality to stop bleed through and the dots are faint enough that I can write and draw free hand and still make it look neat! They also have a handy pocket at the back and stickers for archiving. If you want one I got mine from amazon feel free to click the picture and it will redirect you to a full selection on amazon. *UPDATE* I purchased this one in August 2016 and still use this journal for daily writing but you will now see via my social networking that I currently use a Travellers notebook system both A5 and field note size.
So why use a Bullet Journal?
​Here are a few of my reasons why
I have a million little to-do lists floating around
- I need a central place for birthdays, budgets, projects, events, memories, affirmations - somewhere I can refer back to when needed easily
- I wanted a central place to focus and maintain goal-setting and habit tracking
- I need a place for details, field notes , seminar notes, people who inspire me names and contact details
- I love stationery! Everything that helps, journaling, scrapbooking, beautiful pens, stickers, pencils and stencils you name it!
- I want to be more artistic and creative
- I want to take organisation to the next level
- I need a place to brain dump my ideas so nothing gets forgotten ( I have lots of them!)
- I need to break things down in detail
- I want a system I can archive and refer back to
- my brain is an amazing resource but whilst focusing on so many things has no space for the new
I will be sharing a selection of blog posts on my use and adaption of this process and welcome you to ask questions and share your ideas.
​
Happy Journaling!
P.s I was asked about the pens in my picture above they are
STABILO Point 88 Fineliner - 25 Assorted Colours
click the the picture link below to purchase the same ones.
​Some of the above links on this site and in the blog maybe affiliate links. In simple terms this means that I may receive a small commission (at no cost to you) if you subscribe or purchase something through the links provided.

Any recommendations are based on personal, not professional, opinion only and I enjoy sharing only products I like and use myself.